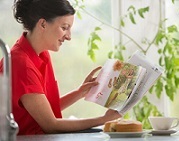 Please find a list of eligible services below:
Contact details:
If you have any operational questions regarding the Incentive or questions relating to your potential participation please don't hesitate to contact us and we will be delighted to help you out.
If you need to contact us for more information please email:
groupincentive@royalmail.com
With the uncertainty of post Brexit economic conditions and the pressure publishers face in replacing advertising revenue from print in the digital world we want to help publishers get the most out of mail. We have developed a number of new incentives designed to help publishers:
reduce the cost of distribution of publications sent by mail
test the use of mail to find new subscribers and
see how mail can benefit retention of existing subscribers
Publishing Volume Commitment
The Publishing Volume Commitment Incentive supports the use of mail for the circulation of publishing titles. The Incentive rewards customers who post publishing mail volumes at the same level (or higher) than the year before entering into the incentive. Customers who at least match their volume target can earn postage credits on all their publishing mail volume at a rate of 2% off the Access price. The incentive is available to any company who sends a minimum of 500k publications a year whether they are an organisation with a single title or a publisher sending multiple titles.
A publishing mail item is a newsletter, journal or magazine that has at least one-sixth editorial content and where the front cover clearly shows the title and at least one of: the date of issue, the month, the season or the issue number.
Publishing Incentive for New Customer Acquisition and Renewal Mailings
Mail is a proven to achieve high scoring results for customer acquisition and retention. Our research shows that:
consumers don't always like the idea of one communication channel – 65% of people say that they are more likely to give mail their full attention*
Including mail in the marketing mix increases ROI by 12%**
To help you see for yourself the benefits of mail we are offering the chance to earn postage credits of 15% off the postage cost for Advertising Mail tests performed over a 6 month period.
Publishing Incentive for New Title Launches
We want your new title launches to be a success. So, to support you when you launch a new title we are offering postage credits at a rate of 30% off the access price for the first 12 months and 10% for the next 12 months. Additionally, if you are interested in testing a brand new audience for your existing publication and it is an audience that you have not previously targeted by mail you can earn a 30% postage credit for incremental volume tests.