Latest News
Renewal of Incentives
Since the introduction of the first Royal Mail Group incentive launched in April 2016, we have approved 182 applications and enabled customers to accrue c£4.2 million in postage savings from the c.153 million mailing items they have posted through the incentives. Thank you for your support in helping us deliver these benefits to you and your customers. We hope you will continue to encourage customers to reap the benefits of our incentives. To help you do this, we are pleased to confirm in the attached letter (
here
) the following:
We are renewing all of our incentives, enabling customers to apply for any one of the incentives up to 31 December 2018.
From 2nd January 2018 we are increasing the postage credit rates for all incentives. The new rates can be seen on our website
here
(by following the link to the appropriate incentive).
We are decreasing the minimum volume eligibility level for the Advertising Growth Incentive from 250,000 mail items to 150,000.
If you would like to discuss incentives with us, please do not hesitate to call your Access Account Director who will be happy to support you.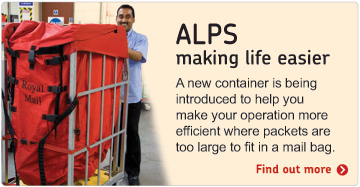 Mail Centre Rationalisation

Mail Centre Rationalisation Programme
Royal Mail continues to review the modernisation of its Mail Centres, which involve the closure of some of its smaller Mail Centres, consolidation of larger and more modern Mail Centres as well as the opening of some new Mail Centres.


Upcoming/Recent changes:
From 2 October 2017 Access mail for the IP postcode area should be delivered to Chelmsford Mail Centre. Further detail is here.
25 January 2016 - Access Mail for the PO postcode area which currently circulates via Portsmouth Inward Mail Centre should be delivered to Southampton Inward Mail Centre.

Please contact your Access Account Director for any further information.