Latest News
Mailmark News
We are reducing our charges for Missorted Mailmark Letter items and making changes to our remedial process and surcharges for dealing with Mailmark unmanifested items.
Please read our letter explaining the reasons for the changes and a copy of the formal change notices setting out the timing of the changes, which are as follows:
Annex B - Change Notice 029 on decreasing the Mailmark Letter missort change to come into effect 4 September 2017
Annex C - Change Notice 030 on Mailmark schedule changes to come into effect 1 January 2018; and
Annex D - User Guide Amendment 041 on unmanifested remedies to come into effect 1 January 2018.
Mailmark Poly large letter test
We want to support the mailing industry and promote the migration to Mailmark services to enable more customers to benefit from the reduced prices available. We have agreed a test criteria that will allow Mail Producers to test the production of Mailmark poly wrap Large Letters. Mail producers will be able to apply to participate in the test for qualifying postings that are presented up to the
28 October 2017
(
deadline extended Aug 15
)
Please see the attached document
here
Setting up Mailmark participants and SCIDs correctly
Please find attached (here) an explanatory note on why setting up SCIDs correctly is important and details of the changes we have made to the SCID set-up process to make this easier for everyone to achieve.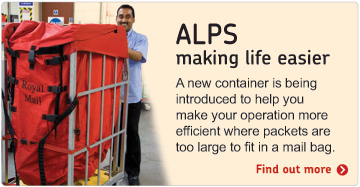 Mail Centre Rationalisation

Mail Centre Rationalisation Programme
Royal Mail continues to review the modernisation of its Mail Centres, which involve the closure of some of its smaller Mail Centres, consolidation of larger and more modern Mail Centres as well as the opening of some new Mail Centres.


Upcoming/Recent changes:
From 2 October 2017 Access mail for the IP postcode area should be delivered to Chelmsford Mail Centre. Further detail is here.
25 January 2016 - Access Mail for the PO postcode area which currently circulates via Portsmouth Inward Mail Centre should be delivered to Southampton Inward Mail Centre.

Please contact your Access Account Director for any further information.