Latest News
48-Way Sort Mech Letter Option
On 21 December 2017, we were pleased to inform you of the launch of a new optional sorting level under the Access Letters Contract.
On 5 January 2018 we wrote to customers to inform that for regulatory purposes we are required to provide 70 days' notice to customers to introduce Schedule 23, unless we have the consent of all our contract holders to make the change on a shorter notice period.
Despite the enthusiasm of much of the industry to adopt the 48-way sortation immediately, we have received an objection to introducing the Schedule on a shorter notice period. Regrettably, this means that we are unable to accept any postings under the 48-way sortation until 26 March 2018.
Therefore we have reissued a new change notice no. 40 (here). This change notice supersedes the change notice that we issued on 5 January 2018, number 038.
If you would like to adopt the change please contact your Account Director.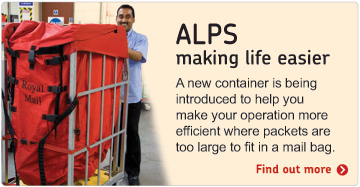 Mail Centre Rationalisation

Mail Centre Rationalisation Programme
Royal Mail continues to review the modernisation of its Mail Centres, which involve the closure of some of its smaller Mail Centres, consolidation of larger and more modern Mail Centres as well as the opening of some new Mail Centres.


Upcoming/Recent changes:
From 2 October 2017 Access mail for the IP postcode area should be delivered to Chelmsford Mail Centre. Further detail is here.
25 January 2016 - Access Mail for the PO postcode area which currently circulates via Portsmouth Inward Mail Centre should be delivered to Southampton Inward Mail Centre.

Please contact your Access Account Director for any further information.