Latest News
Mailmark poly-wrap large letter testing
We are working closely with customers to improve the barcode read rate performance of Mailmark poly-wrapped large letters. To continue the progress made in resolving this issue we are extending the period of testing poly-wrapped large letters until 30 June 2019.
The attached letter explains the results of the testing activity so far and how customers may participate in the testing going forward.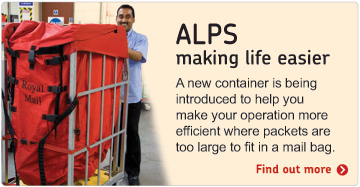 Mail Centre Rationalisation

Mail Centre Rationalisation Programme
Royal Mail continues to review the modernisation of its Mail Centres, which involve the closure of some of its smaller Mail Centres, consolidation of larger and more modern Mail Centres as well as the opening of some new Mail Centres.


Upcoming/Recent changes:
From 2 October 2017 Access mail for the IP postcode area should be delivered to Chelmsford Mail Centre. Further detail is here.
25 January 2016 - Access Mail for the PO postcode area which currently circulates via Portsmouth Inward Mail Centre should be delivered to Southampton Inward Mail Centre.

Please contact your Access Account Director for any further information.