New Stamp-Like Indicia: 'Thumbs up for your Postie'
06-05-2020
We are delighted to be able to offer stamp-like artwork for you and your customers to use in support of our ongoing 'thumbs up for your postie' campaign.
We have a number of artwork options available and these can be found here.
Here is an example of one of our available images: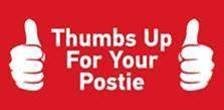 What to do next?
The design is available to use immediately. If you wish to use the design on your mailings, you must:
use the official artwork which can be found and downloaded here.
use the design only on Mailing Items sent to addresses in the United Kingdom under your Access Letters Contract with us;
ensure your application of the design complies with the Stamp-Like Access Indicia specification;
ensure your use of the design ends no later than 31 August 2020, inclusive, or such later date as we may notify you; and
ensure the design is used only by you and your posting customers (although you may permit those who print indicia on mailing items for you or your customers to print this design on them).
For further information relating to this stamp-like indicium, please contact your Account Director.