Christmas 2022 Digital Stamp
20-09-2022
Please see below an update on the Digital Stamp design for Christmas 2022
This year Royal Mail Wholesale will not be issuing a new Digital Stamp design for Christmas 2022. This is due to us evaluating how to incorporate a barcode into the Digital stamp design. We need to undertake a series of tests before we will be ready to finalise the design specifications for the barcoded Digital Stamp. We plan to announce the updated specifications by January 2023. We will provide more details in due course.
So that you can continue to use a Christmas Stamp design on your 2022 Christmas mailings Royal Mail Wholesale is allowing the 2021, 2nd Class Christmas stamp image to be reused.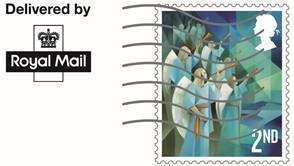 We are pleased to announce if you were accredited to use the Christmas stamp last year you do not need to reapply for accreditation. The Digital Stamp Design Specification is published on https://www.royalmailwholesale.com/digital-stamp-indicia-3936 where you will also find full details of the artwork approval process. Print production sites producing a digital stamp for the first time, including this Christmas stamp, must gain accreditation prior to their first digital stamp mailing.
What to do next?
If you wish to use a Digital Stamp design on your mailings, you must:
use Mailmark for all digital stamp mailings
have entered into the Digital Stamp Agreement; and
ensure that your print supplier is aware of and completes the required approval process prior to Digital Stamp use. The approval process must be completed by all customers.
be able to meet all aspects of the Digital Stamp Design Specification
ensure that you use the correct Digital Stamp artwork. This can be obtained from accessdigitalstamp@royalmail.com
Some key features to note
Digital Stamp Indicia can only be used with Access Mailmark mailings.
We continue with the artwork approval process for Digital Stamp Indicia. The process aims to reduce administration for customers with a one off, upfront, site specific, print supplier approval for Digital Stamp designs. For details please refer to https://www.royalmailwholesale.com/digital-stamp-indicia-3936
Please be aware that due to the current Covid-19 situation, proofs for approval must not be sent to Farringdon as per the normal.
You will need to include us as a seed/sample in each Digital Stamp mailing so we can verify that the Digital Stamp Design Specification is being met on an ongoing basis. The Digital Stamp Design Specification contains guidance for seeding requirements. You need to provide us with written confirmation that seeding arrangements are in place for each customer using Digital Stamp Indicia.
Assistance and contacts
For further information relating to Digital Stamp please contact your Royal Mail Wholesale Account Director or Chris Hadlow email: chris.hadlow@royalmail.com